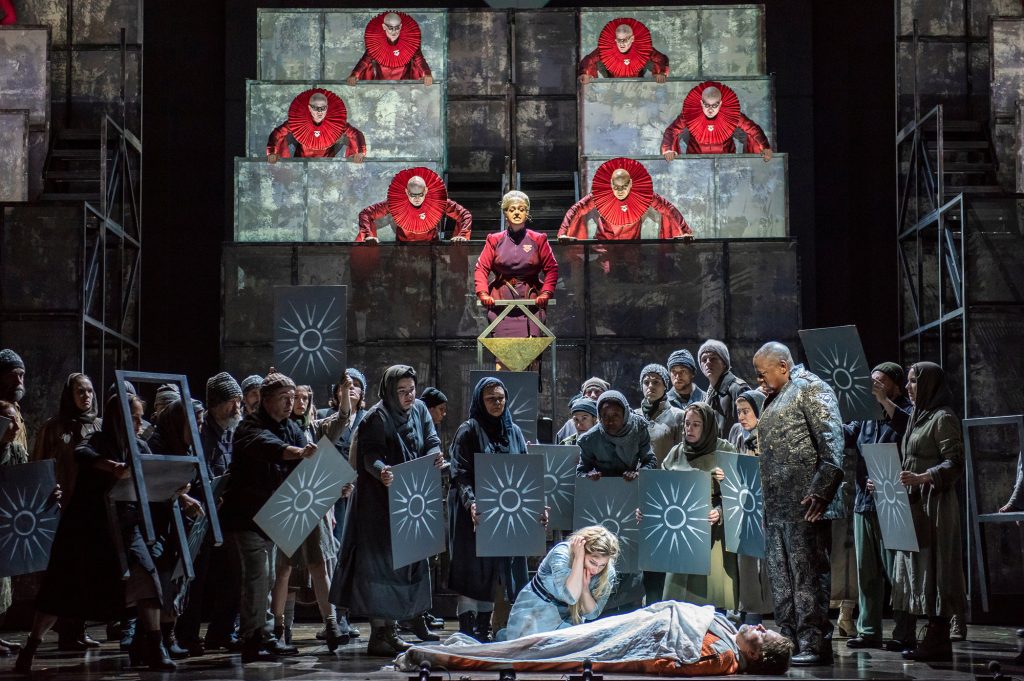 "The Miracle of Heliane"
Opera in three acts
Libretto Hans Müller, after a mystery play by Hans Kaltneker
World Premiere 7 Oct 1927, Hamburg
Other Premieres UK premiere: 21 Nov 2007, London (unstaged concert perf.)
Publisher Schott
Instrumentation link to Schott Music
Synοpsis
Adapted by Troy O. Dixon from:
Duchen, Jessica. The Inspired Idea. Opera magazine. V. 58 n. 11, November 2007. London.
Duchen, Jessica. Programme notes. Das Wunder der Heliane. London Philharmonic Orchestra. Cond. Vladimir Jurowski. 21 Nov 2007.
Caroll, Brendan G. Liner notes. Das Wunder der Heliane. Perf. Radio-Symphonie-Orchester Berlin & Rundfunk Chor Berlin. Cond. John Mauceri. Decca (436 636-2), 1993. CD.
Setting: In the realm of a Ruler, in a unspecified time.
Act I
The Ruler exercises a grim and despotic power over his country. Since he is unable to win the love of his wife, Heliane, he feels that his subjects, too, should suffer, and will not tolerate them living in happiness. A Stranger has appeared in the land and attempted to bring joy to the people, but has been thrown into prison as a result. Sentenced to death for preaching love, he is due to be executed the following day. The kindly Porter brings him food, which he refuses, and tells him he must expect a visitor. The Ruler visits him in his cell, wishing to find out the reasons for his actions. The Stranger's pleas for reprieve go unheard, although he is permitted to spend his last night on earth unchained.
After the Ruler has left, Heliane comes into the cell, wishing to comfort the Stranger. Her feelings of pity gradually turn to those of love. Responding to the Stranger's entreaties for last taste of beauty, Heliane reveals to him first her golden hair, then her small white feet, and finally her naked body. He begs her to give herself to him on this last night of his life; in love, but terrified, she goes into the adjacent chapel to pray. The Ruler returns to the cell. He now proposes that if the Stranger can show him the secret of how to win Heliane's love, he, her husband, will offer the Strange not only his life, but also will share Heliane herself with him. At this point Heliane returns, still naked. The Ruler orders the Stranger's death and Heliane's immediate arrest.
Act II
The Act opens with an encounter between the Ruler and a female Messenger – his rejected former mistress – who, while they await the arrival of the Executioner, six Judges and the blind Chief Justice, encourages him to mete out the death penalty for those caught in acts in love. Heliane is on trial for her life. The Ruler accuses his wife of adultery with the Stranger. In the opera's most famous aria, "Ich ging zu ihm", Heliane does not deny that she was found standing naked in front of the Stranger, but declares that she gave herself to him not physically but in thought only; the music, though, shows how deeply she loves him. The Ruler presses a dagger on Heliane and orders that she should kill herself. The Stranger is then brought in to testify, but he refuses to speak and insists on being left alone for some moments with Heliane. He kisses her, then takes the dagger and kills himself. It is now impossible for the Ruler to discover what really happened in the prison. He decides to put Heliane to the test before God: if she in not guilty, as she claims, then she will have the power to bring the Stranger back to life. Half in a trance, Heliane agrees to undergo this trial.

Act III
A vast crowd of people has gathered before the castle, waiting for the Ruler, the Judges and the blind Chief Justice, who arrive to witness Heliane's attempt to bring the dead Stranger back to life. The Messenger incites the people to violence against Heliane; the Porter defends her. Heliane arrives to begin her trial, but at the crucial moment breaks down, confessing that she did indeed love the Stranger. The Ruler is anxious to save her, but only if she will finally be his. She refuses and the people begin to lead her away to the stake. The excited crowd is startled by a clap thunder. Stars begin to appear in the sky. Suddenly the Stranger rises up, transfigured, from the funeral bier. Heliane runs into his arms and the Ruler, beside himself, plunges his sword into her breast. She dies, but the Stranger restores her to life with his kiss. He blesses the people and banishes the Ruler, whose power has now been broken. Heliane and the Stranger rise toward the gates of Heaven. The opera's closing pages are an ecstatic, mystical love duet as the couple make their way towards eternity, united in the bliss of eternal love.
Page last updated August 2012