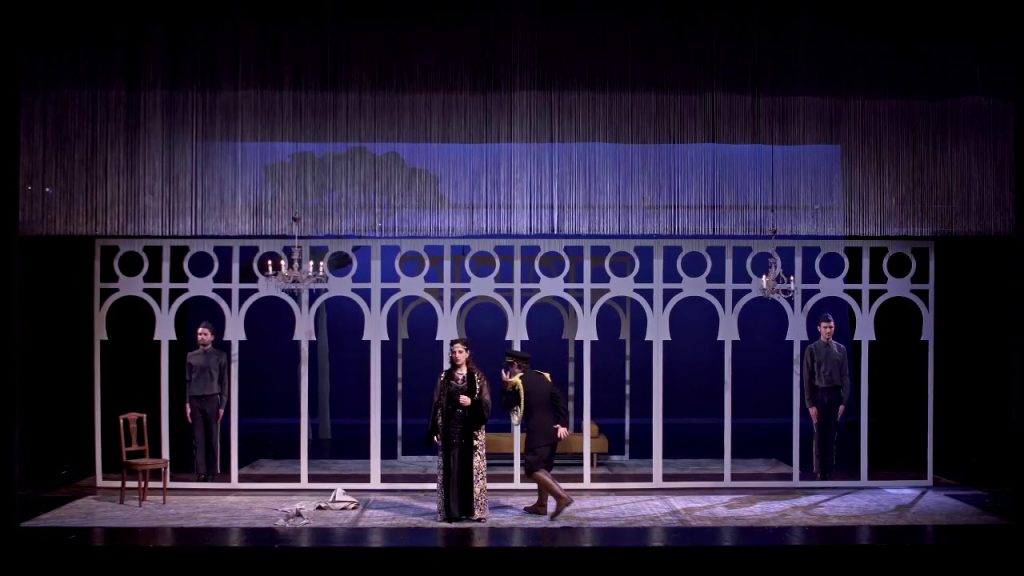 "The Silent Serenade "
Original Operetta
Composition 1946-1950
Libretto idea by Raoul Auernhaimer, revised by Rudolph Lothar. English book by Victor Clement. Lyrics by Bert Resifeld and William Okie. German version by Raoul Auernheimer.
World Premiere 26 Mar 1951, Radio Vienna
Other Premieres 10 Nov 1954, Dortmund (first staged performance)
Publisher Josef Weinberger
Instrumentation link to Josef Weinberger
Source: Liner notes. Die stumme Serenade. Perf. Young Opera Company, Holst-Sinfonietta. Cond. Klaus Simon. CPO 777 485-2, 2011. CD.
ACT I
The action is set in Naples in 1820. One night there is a break-in at the villa of the famous actress Silvia Lombardi. A man stands by her bed and tries to kiss her. When Silvia wakes up and calls for help, the criminal has disappeared. At the same time, an assassin forces his way into the bedroom of the fiancé, Prime Minister Lugarini, and places a bomb under his bed. Naples is in great uproar (in 1820 death was the punishment for the abduction of a woman), and the assumption is that one and the same man is behind both crimes. The famous fashion designer Andrea Coclé comes to the attention of Police Commissioner Caretto during his investigations. Coclé is Silvia's tailor and evidently in love with his customer. Caretto suspects Andrea and has him arrested.
The reporter Sam Borzalino is writing an article about this arrest and meets Louise, who is the first model in Andrea Coclé's salon. The two begin an affair.
Under interrogation Andrea Coclé admits that he entered Silvia's garden in order to perform a serenade for her. Since nobody heard the song, Andrea claims that the song was born of his soul and thus was a silent serenade. He also claims, however, that he had nothing to do with the assassination of the Prime Minister.
Father Orsenigo brings Caretto the news that the King of Naples is planning to pardon a convicted criminal on the occasion of his eightieth birthday. Caretto thereupon hatches a plan: Andrea should confess to the assassination and break-in at Silvia Lonbardi's villa so that the kind will pardon him. A fair deal.
ACT II
Trusting in Caretto's plan, Coclé confesses to the crimes in court – even though his business manager Laura (secretly in love with her boss) tries to save him with a false alibi. The judge sentences him to death by hanging.
But fate would have things otherwise. The King dies over night , and so a pardon on the occasion of his eightieth birthday can no longer be granted. Caretto is furious, but before his execution Andrea Coclé is to be granted one last wish. His wish is to have diner with Silvia Lonbardi. During the dinner the two fall madly in love.
Fate again intervenes. The people of Naples love the tailor Coclé and topple the hated Prime Minister in a revolution. The people install Andrea as the new chief of state, and he is now in a proper position to marry Silvia. As Andrea's "old colleague," Louise comes to the state palace in order to request a permanent post her fiancée Sam, so that they can marry. Andrea makes Sam is press secretary, and the appointee faints away for joy.
Andreas does not really feel ready to govern, and so fate now intervenes for the third time. The real assassin, Carlo Marcellini, reports proudly to Andrea and claims the executive post for himself. Andrea Coclé happily leaves the governing to him and ends his short adventure in politics. He now dedicates himself entirely to his fiancée and learns that she only dreamed of her alleged abduction – with him in the lead role. Together they praise the silent serenade.
Page last updated Julu 2012